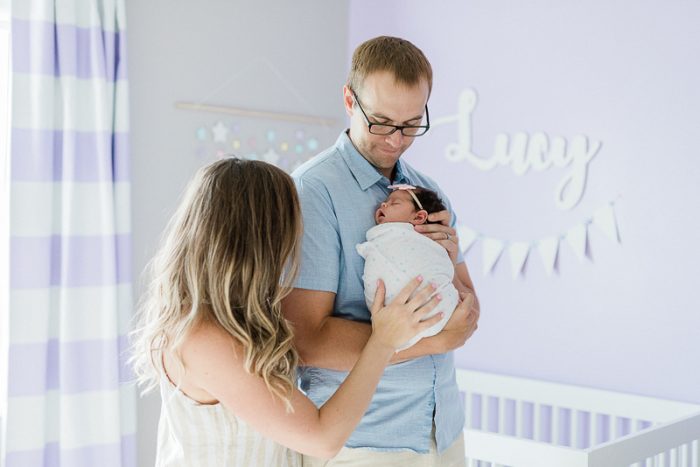 Happy Thursday friends! Hope everyone has had a great week so far. Last week officially ended this year's busy season for me! Now I will be spending the next few months traveling to the occasional shoot and wedding, editing away, updating the website, doing bookwork, oh – and newborn sessions! I tend to book the most in-home sessions during the winter months, since the weather usually isn't ideal to be outside. An in-home newborn session is basically exactly how it sounds. I travel to your home, bring some props along, and we take photos of your little one and family (if desired), usually in the nursery or a bedroom in your home. My newborn sessions are relaxed and have more of a lifestyle look rather than a formal studio look.
Today I'm sharing a sweet in-home newborn session featuring baby Lucy from this summer. I'm still in love with how these turned out! Their nursery was so cute, and even better, had large windows that gave me some great light to work with. I know how much work goes into decorating and arranging a nursery, so I always take a few minutes to photograph all of the little details. We also made sure to include Lucy's big sister in as many moments as possible. Lucy was an angel and slept through the entire session!
To enter to win a newborn session of your own, just leave a comment below and share when you are expecting and why you'd love to have newborn photos taken! Also be sure to let me know the best way to contact you (email, Instagram handle, phone #, etc) I will choose one expecting family to gift a session to on Thursday, November 14th. Happy commenting!