How to Keep Track of Mileage for Taxes
This post is all about how to keep track of mileage for taxes.
Tax season is upon is once again, and if you've spent most of your time the last few weeks going back through every session you had last year and writing down how many miles you drove… this post is for you. No shame, I used to do the same thing! I would try to keep track of the mileage I drove for photoshoots every week, or every month, but I would get busy and push it aside, and pretty soon I had months and months of untracked mileage to go through (sound familiar?).
Tax season is stressful enough, don't let something as simple as tracking miles add to to your list of things to do in the spring! I've found a super easy, convenient way to track ALL of my miles, business and personal, throughout the year. 
HOW I TRACK MILEAGE FOR TAXES
I use Quickbooks to keep track of all of my income, expenses, financial reports, etc. but I also use it to conveniently track my mileage. It's so easy! If you allow Quickbooks to use your location, it will automatically put any trips that you take in the log, and then you have the option of marking each trip as business or personal. It tells you what the potential deduction is, and keeps track of your total mileage and total potential deduction for the entire year.
Here is what a trip looks like in the log – it gives you the date and time, the addresses you went to and from, potential deduction amount, your vehicle, and then the option to mark the trip as a business or personal trip.
As I mentioned before, if you allow it to, Quickbooks will automatically track every mile you travel so all you have to do is check in periodically as categorize them. But, you can also turn that off and enter in your miles manually if you don't want it to track everything!
The best part? You can access this feature on both your desktop and your phone! So you easily check and categorize your trips from your phone when you have a few minutes to spare.
At the end of the year, you'll have your total business miles and total potential deduction amount to use for taxes.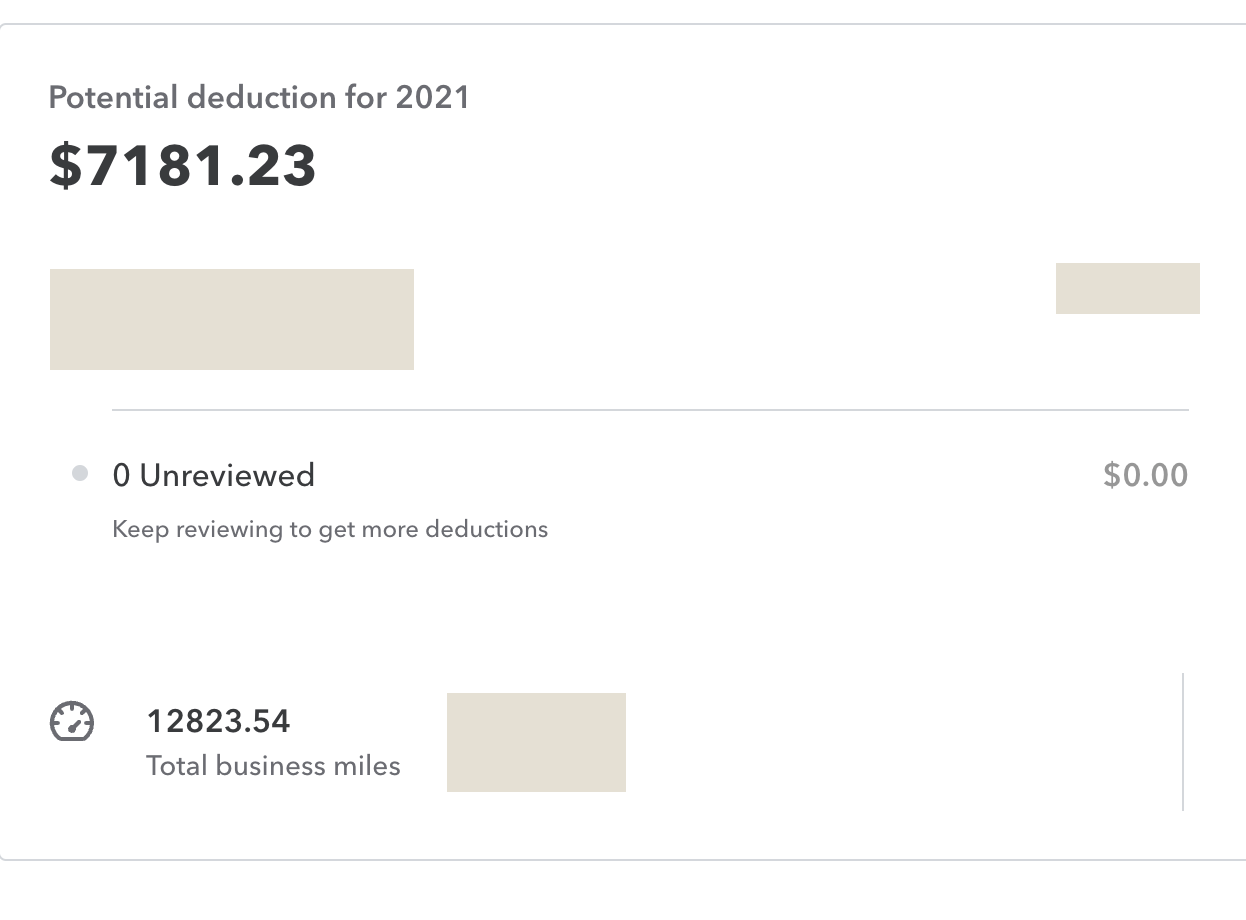 Quickbooks is a must-have for me in my business. I use it daily and it saves me SO much time when tax season rolls around! If you're interested in trying it out, I have an affiliate link that will get you 50% off your first 3 months. If you don't already use an accounting software like Quickbooks, I HIGHLY recommend trying it out!
And as always, feel free to reach out if you have any questions about this topic or anything photography related!
This post was all about how to keep track of mileage for taxes.